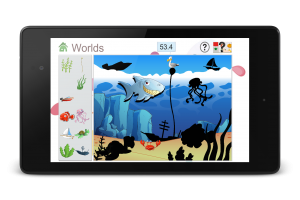 We at Deedu design applications for kids aimed at achieving a cognitive improvement in the attention span, memory, language and reasoning areas. Our applications are directed not only to kids that struggle with learning difficulties, but also to those that simply want to improve their attention span. Our aim is not to teach, but to help the kids improve their own learning skills.
Special educational needs require a personalized support and an innovative methodology. We are aware of the concern these kinds of necessities cause in families and educators alike, so we offer a range of applications they can use in order to help the kids reach the minimum and essential curricular objectives by supporting their own improving effort.
Such applications have the form of creative games for tablets. Tablets, because of their playful appearance and their interactivity, are the ideal learning environment for kids, who learn without actually realizing they are improving themselves.